---
Reon sponsor Crossfit OzBox in SID Final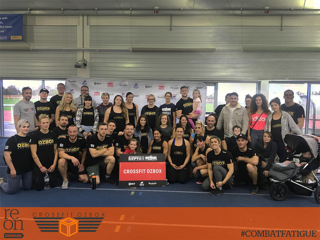 Crossfit OzBox is proud to be sponsored by Reon for this years Strength and Depth Finals, taking place on 30th November - 1st December 2019!
Reon powder shots are designed to help you fight fatigue. Available in sour apple and pomegranate flavours, each sachet contains essential vitamin B12 and energising caffeine. Reon dissolves on the tongue within seconds, so there is no need to mix with water.
SiD Origins is an annual team competition entered via a 3-month online qualification. Teams consist of 12 athletes in total, combining 7 males, 5 females including a master's athlete of each sex. One master must be 40+ and the other 35+. The combined age of the master's athletes must be at least 75.
The online qualification phase consists of 3 workouts, the first is an individual workout, the second pairs and the third workout is to be completed in teams of 4. Each team score submitted for all the workouts must maintain the team combination listed above (7 males, 5 females including a master's athlete of each sex).
The top 68 qualifying teams are invited to compete at the SiD Origins final. The SiD Origins final is intended for experienced athletes with intermediate and above levels of technical competency and the capacity to complete workouts at competitive loadings.
Good Luck to this years OzBox SID Team!!